About me
My name is Francesca and I am an Italian illustrator currently living in London and working on a freelance basis as a book cover artist.
I'm a fantasy and sci-fi reader and I'm pretty sure that I wouldn't be an illustrator now if not because of my love for books. In my early teens, I used to consider book cover artists of the novels I loved as mythological creatures who couldn't possibly be human, and I loved to challenge myself to recognize the artist of the covers of the new books on the shelves.
I've studied art and illustration wherever I could, from private painting lessons to more organized schools, to intensive workshops held by some of my artistic heroes. And from a lot of self-taught practice.
My tools of the trade are Corel Painter and my Wacom tablet, though I also love to paint traditionally and mix the two worlds when I think they can complete each other well on a painting.
Clients
My vampirized version of a portrait of Marie Antoinette has been selected and is going to be included in the prestigious Infected by Art vol.4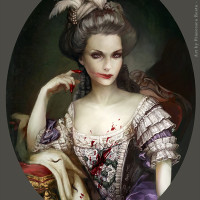 You can contact me through
my agent or directly by email.